Raw video: Fisherman in Montana lays out fish and captures impressive hunting footage of predator catching its prey.
The impressive hunting skills of a bald eagle were on full display after a fisherman recently set his camera up on a lake in Montana.
The fisherman, identified as Nate, spotted a bald eagle perched on a tree in northwest Montana and decided it would be the perfect opportunity to capture some wildlife footage, Della Bay told Storyful.
After setting up his camera, Nate placed a fish he caught in view of the eagle.
The eagle then swooped down low over the frozen surface to pick up the fish, which was captured in clear view by the camera.
BALD EAGLES SPOTTED FLOATING ON ICE ALONG THE MISSISSIPPI RIVER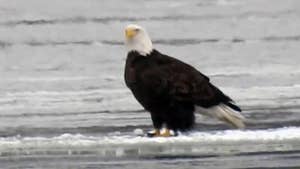 Video
Bald eagles tend to live near bodies of water and favor areas where fish are plentiful, according to National Geographic.
The birds, whose numbers have rebounded since nearly being wiped out, go after fish using their powerful talons.
Travis Fedschun is a reporter for FoxNews.com. Follow him on Twitter @travfed
Source: FOXNews.com — Read: Original Article