closeVideo
R. Kelly charged after years of allegations
Singer indicted for sexual abuse involving young girls.
A 23-year-old woman described by R. Kelly as one of his girlfriends has told her family that she is "happy" with the embattled R&B artist.
Joycelyn Savage said Wednesday during a phone call with her parents that she has told them a "million, million times" that she's "OK" where she is and that they "need to stop."
R. KELLY LASHES OUT OVER SEX ABUSE ALLEGATIONS IN INTERVIEW WITH GAYLE KING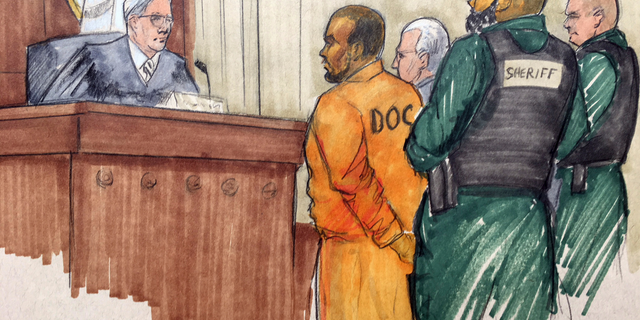 In this courtroom sketch, R&B singer R. Kelly appears before Cook County Associate Judge Lawrence Flood with his attorney Steve Greenberg Monday, Feb. 25, 2019, at the Leighton Criminal Courthouse in Chicago. Kelly's attorney entered not guilty pleas on the singer's behalf after Kelly was charged with sexually abusing four victims dating back to 1998, including three underage teenagers. (Tom Gianni via AP)
The call took place after her parents, Timothy and Jonjelyn Savage, held a news conference in Georgia during which they said they hadn't spoken to their daughter in two years and alleged that Kelly was holding her against her will.
R. KELLY'S ESTRANGED DAUGHTER CALLS HIM A 'MONSTER'
R. KELLY DENIES SEXUAL ABUSE ALLEGATIONS: 'I DIDN'T DO THIS STUFF'
The call was on speaker-phone at the office of the couple's lawyer, Gerald Griggs, and was captured on cellphone video and posted on Twitter.
Kelly is charged with having sexually abused four other women years ago, including three who were underage at the time. He has pleaded not guilty and has denied any wrongdoing.
Source: Google.com — Read: Original Article